About Shelton Interactive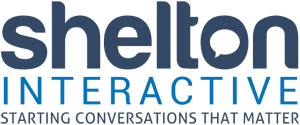 Shelton Interactive is a digital marketing agency focused on literary clients.
Recognizing seismic shifts, not only in every aspect of the publishing process, but also the way that both media members and readers interact with authors online, Shelton Interactive helps clients create dynamic, interactive websites, digital campaigns and social media strategies focused on building better relationships with readers, media members and colleagues.
Prior to founding Shelton Interactive, Rusty Shelton spent more than seven years at Phenix & Phenix Literary Publicists. During Shelton's tenure as Managing Director (2007 – 2010), he took the company in a new direction, focusing as much on digital media and social media strategies as traditional media promotion. This produced a great impact on the success of the company's clients. During his four years as Managing Director, he oversaw campaigns for more than half of the company's 40 bestsellers and spoke around the country on the changing world of public relations.
Shelton created the wildly successful social media campaign, The Noticer Project, which helped catapult Andy Andrews' book, The Noticer, to an 11-week run on the New York Times bestseller list in 2009 and was widely recognized as a boundary-pushing digital media initiative.
In addition to the company's work with Cave Henricks Communications, the company's client list also includes Chicken Soup for the Soul, Harvard Health Publications, Nicholas Brealey Publishing, Mira Books and many other top authors and publishers.
A frequent speaker on the changing world of public relations, Shelton first spoke at Harvard when he was 23 and has been a faculty member at the Harvard Medical School Department of Continuing Education's Publishing Course for the past six years. He also sits on the University of Texas Texas Exes PR Committee.
Learn more about Shelton Interactive.