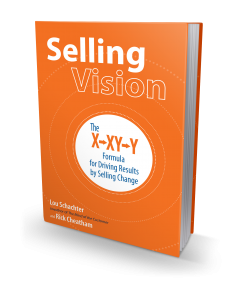 McGraw-Hill Eduation,
March 2016
Selling Vision provides a sales approach designed specifically to help you sell new products or services that require significant change in the way you do business.
Nearly every sales professional today is dealing with unprecedented change, at an unprecedented pace. Whether you're transitioning from selling IT hardware to cloud solutions, dealing with innovative new pricing models, or serving new customers, this book gives you a powerful, proven sales strategy that will differentiate you from the competition. The authors' proven program that integrates change-management and sales strategy will help you easily navigate and succeed in the new world of selling―and close more deals than ever.