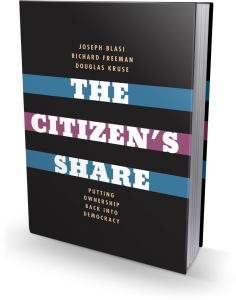 Reducing Inequality in the Twenty First Century
by Joseph R. Blasi
Yale University Press
November 2013
Mounting income inequality is America's primary economic dilemma. In the book, three academics argue that one possible solution to economic inequality is to make it possible for more citizens to gain access to capital income—to shares in stock and profits in the businesses where they work. Through history, empirical evidence, and case-studies, the book demonstrates that the "share" idea has roots in the philosophies of the Founding Fathers, and explains how the United States might reform its brand of market capitalism in a way that not only reduces income inequality, but is also good for business. Specifically, the book recommends radical tax incentives that encourage every business to adopt employee share ownership and profit sharing across the entire economy so that more citizens can own a meaningful capital stake.
---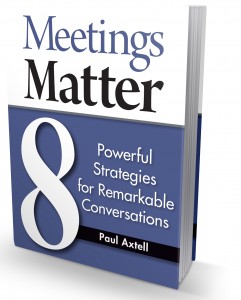 8 Powerful Strategies for Remarkable Conversations
by Paul Axtell
Jackson Creek Press
January 2015
America has become a nation "stuck in a meeting." Between corporate boardrooms, all hands meetings, and conference calls, few of us can claim our time is meeting-free. Even fewer can claim every "mandatory session" was worth it. But Paul Axtell – a consultant with more than 30 years of experience in personal and professional organization – says meetings themselves aren't the problem. In his new book, he defends the importance of meetings, explains how they've gone horribly wrong, and offers eight ways to fix our meeting problems so they stop wasting time, and instead build and boost valuable relationships.
---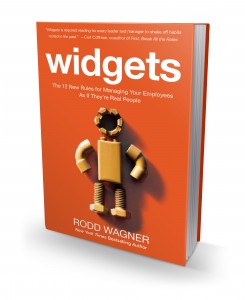 The 12 New Rules for Managing Your Employees As If They're Real People
by Rodd Wagner
McGraw-Hill
April 2015
Employee engagement initiatives abound, yet the vast majority of the American workforce remains demoralized, frustrated, and uninspired. The reason, according to New York Times bestselling author Rodd Wagner, is that organizations have neglected employees' human nature—treating them instead like widgets. Armed with extensive original research, compelling examples, and a no-holds- barred approach, Wagner ushers in a new set of rules for engaging employees by treating them like people.
---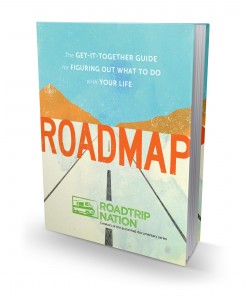 The Get-It-Together Guide for Figuring Out What to Do with Your Life
by Roadtrip Nation
Chronicle Books
April 2015
Here, the team at Roadtrip Nation makes the compelling case that the key to solving our workplace woes lies not in achieving work-life balance, but in rethinking the concept of career as we know it—seeing our career as an opportunity to profitably live out our interests, values, and vision, rather than merely a means for paying our bills. Drawing on an extensive archive of interviews with people around the world—from the chairman of Starbucks to National Geographic photographers and the scientist who decoded the human genome—the authors usher in a three-part process to finding a career that integrates work and life in a way that is both satisfying and sustainable.
---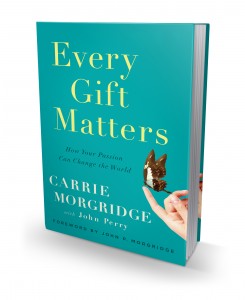 How Your Passion Can Change The World
by Carrie Morgridge with John Perry
Greenleaf Book Group
May 2015
Charitable giving is on the rise in America. Despite the lingering effects of the economic downturn, Americans continue to give generously of their time, talent, and money – more than $335 billion in 2013, a 4.4% increase from 2011. What's more, the bulk of that charitable giving – 72% – came not from large foundations or corporations, but from individuals making small gifts. For those with passion for a cause and a generous spirit, it's vitally important that they leverage their gift in the right way in order to have the greatest impact possible. In Every Gift Matters, philanthropist Carrie Morgridge shares inspiring stories of powerful gifts in action to show readers how to turn the act of giving into a vehicle for positive change.
---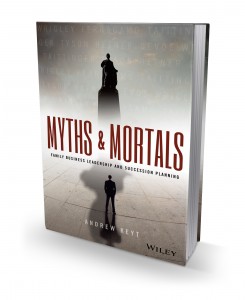 Family Business Leadership and Succession Planning
by Andrew Keyt
Wiley
July 2015
Expert in the field of family business and next-generation leadership Andrew Keyt illustrates the unique challenges of running a family business and taking over the reins from a parent or relative. Covering sticky problems like succession, establishing and maintaining credibility, and the task of leading one's family members, this book distills the key leadership traits essential for successors to step out of their predecessor's shadow and become legendary in their own right.
---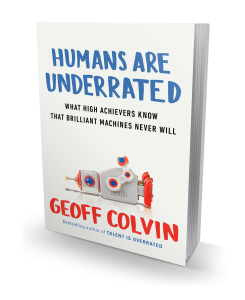 What High Achievers Know That Brilliant Machines Never Will
by Geoff Colvin
Portfolio
August 2015
Recently, many have argued that robots will soon take our jobs – not just factory jobs, but lawyers, doctors, writers. In his new book, award-winning Fortune journalist Geoff Colvin contradicts this narrative and argues that we are not destined to become irrelevant. Robots will not make us obsolete, because there will always be jobs we insist be performed by other people. In the future economy, skills of social interaction – empathy, social sensitivity, forming relationships, collaboration, and creativity – will be the new competitive advantage of both workers and businesses.
---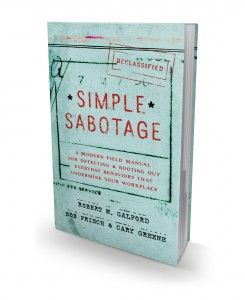 A Modern Field Manual for Detecting and Rooting Out Everyday Behaviors That Undermine Your Workplace
by Robert M. Galford, Bob Frisch, Cary Greene
HarperOne
September 2015
Inspired by the Simple Sabotage Field Manual released by the Office of Strategic Services in 1944 to train European resistors, this is the essential handbook to help stamp out unintentional sabotage in any working group, from major corporations to volunteer PTA committees.
In 1944, the Office of Strategic Services (OSS)—the predecessor of today's CIA—issued the Simple Sabotage Field Manual that detailed sabotage techniques designed to demoralize the enemy. One section focused on eight incredibly subtle—and devastatingly destructive—tactics for sabotaging the decision-making processes of organizations. While the manual was written decades ago, these sabotage tactics thrive undetected in organizations today:
Insist on doing everything through channels.
Make speeches. Talk as frequently as possible and at great length.
Refer all matters to committees.
Bring up irrelevant issues as frequently as possible. Haggle over precise wordings of communications.
Refer back to matters already decided upon and attempt to question the advisability of that decision.
Advocate caution and urge fellow-conferees to avoid haste that might result in embarrassments or difficulties later on.
Be worried about the propriety of any decision.
Everyone has been faced with someone who has used these tactics, even when they have meant well. Filled with proven strategies and techniques, this brief, clever book outlines the counter-sabotage measures to detect and reduce the impact of these eight classic sabotage tactics to improve productivity, spur creativity, and engender better collegial relationships.
---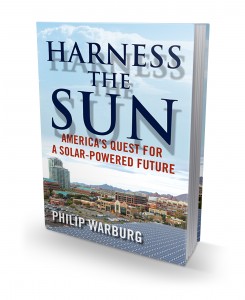 America's Quest for a Solar-Powered Future
by Philip Warburg
Beacon Press
September 2015
From the inner city to the open desert, a seasoned environmental advocate looks at solar energy's remarkable ascent and its promise for America's future
Solar power was once the domain of futurists and environmentally-minded suburbanites. Today it is part of mainstream America—and the solar industry is absolutely booming, as it adds workers almost twenty times faster than the overall U.S. economy. Beginning in his Boston-area home, where a rooftop solar array meets most of his family's power needs, Philip Warburg travels the country and introduces readers to a surprising array of pioneers who are spearheading America's solar revolution, from conservative business leaders and politicians to college students and staff committed to greening their campuses. Pollution-ravaged urban industrial areas and Native American groups alike are finding that solar offers the key to revitalizing their communities—all while weaning the country off of fossil fuels. In Harness the Sun, Warburg argues that solar offers a realistic solution to the urgent problem of transforming our energy sector in a way that meets demand and is technically and economically viable.
Philip Warburg has served as president of the Conservation Law Foundation, as executive director of the Israel Union for Environmental Defense, and as a senior attorney at the Environmental Law Institute. The author of Harvest the Wind: America's Journey to Jobs, Energy Independence, and Climate Stability, Warburg lives with his family in Newton, Massachusetts.
---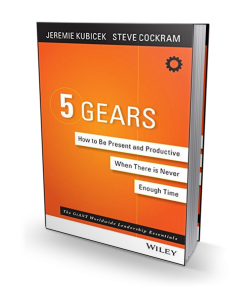 How to Be Present and Productive When There Is Never Enough Time
by Jeremie Kubicek and Steve Cockram
Wiley
September 2015
5 Gears: How to Be Present and Productive When There Is Never Enough Time teaches you to shift into the right gear at the right time so that you can grow in your relational intelligence and increase your influence. This revolutionary text introduces you to the five different gears, or mindsets, that carry you through various facets of your day. These include:
First gear—when you fully rest and recharge
Second gear—when you connect with family or friends without the involvement of work
Third gear—when you are socializing
Fourth gear—when you are working and multi-tasking
Fifth gear—when you are fully focused and 'in the zone,' working without interruption
Using these gears consistently allows you to bring a new level of relational intelligence to your life that offers a competitive advantage in our task-driven world.
All too often people go through life without truly connecting—and can, as a result, miss out on experiences and relationships that have the power to bring them great joy. By understanding how the five gears presented in this engaging book work, you can improve your ability to connect with the world around you.
Explore why some people stay disconnected from the people and events around them, and why others always seem to have a deep connection to their friends, family, and surroundings
Learn how to set triggers and markers that help you shift into the right gears at the right time, which will increase your relational dynamics and make you more productive
Create positive change in the dynamics of your relationships
Improve your respect and influence—and learn a sign language that, when used, can change your perspective and your world.
5 Gears: How to Be Present and Productive When There Is Never Enough Time is the perfect resource for anyone who wants to live and lead connected.
---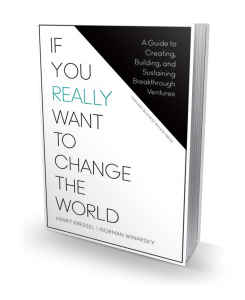 A Guide to Creating, Building, and Sustaining Breakthrough Ventures
by Henry Kressel and Norman Winarsky
Harvard Business Review Press
October 2015
Silicon Valley's latest trend for creating new ventures is based on trial and error: test market needs with new product concepts and a minimum amount of capital, expect that the product may not meet the market need, so fail fast and try another product with the hope that a product-market fit will eventually emerge. But this fail fast, step-and-pivot philosophy is like taking a random walk in the forest without a compass. If You Really Want to Change the World is about helping entrepreneurs find true north.
Henry Kressel and Norman Winarsky—technologists, inventors, and investors with stellar track records—provide a guide for those who wish to create a market-leading company that will have a real impact: a disciplined and staged approach they have used to launch, invest in, and develop scores of highly successful companies.
If You Really Want to Change the World leads entrepreneurs through the critical stages of venture development, from concept to acquisition or public offering to maintaining a rich culture of innovation in the company. It is a guide by innovators for innovators, with approaches that are practical and timeless.
Drawing on the authors' experiences as well as those of their partners from around the world, Kressel and Winarsky share the stories of their triumphs and misses, demonstrate their method in action, and inspire their readers in the process. There are more opportunities now than ever before to build breakthrough companies that touch millions of lives. If this is your goal, let this book be your guide to creating world-changing ventures.
---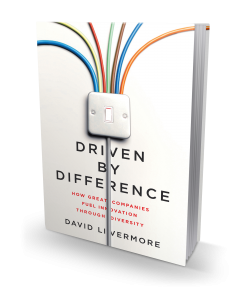 How Great Companies Fuel Innovation Through Diversity
by David Livermore, Ph.D.
AMACOM
February 2016
Today's workforce is more diverse than ever before. But despite new perspectives and talents, the promise of increased innovation rarely materializes. Why are so few businesses seeing results? Studies show that diverse teams are more creative than homogenous ones–but only when they are managed effectively. The secret is to minimize conflict while maximizing the informational diversity found in varied values and experiences. To do this, both leaders and team members need a high level of cultural intelligence, or CQ. Drawing on success stories from Google, Alibaba, Novartis, and other groundbreaking companies, Driven by Difference identifies the management practices necessary to guide multicultural teams to innovation, including how to: Create an optimal environment – Build trust – Fuse differing perspectives – Align goals and expectations – Generate fresh ideas – Consider the various audiences when selecting and selling an idea – Design and test for different users Cultural differences can lead to gridlock, or they can catalyze innovation and growth. This research-based plan turns diversity's potential into economic reality.
---
Get Good at Things Fast to Stay Ready for the Future
by Erika Andersen
Bibliomotion books + media
March 2016
We are operating in a world defined by constant connection, rapid change, and abundant choices. News that once took months, even years, to spread now reaches across the globe in seconds. Advances in medicine and science are pushing boundaries with gene therapy and stem cell transplants. And decisions about where and how to work and live are nearly endless.
As new knowledge—and the possibilities that arise from that knowledge—propels us forward, leadership readiness expert and renowned author Erika Andersen suggests that success in today's world requires the ability to acquire new knowledge and skills quickly and continuously—in spite of our mixed feelings about being a novice.
In her newest book, Be Bad First, Erika explores how we can becomemasters of mastery; proficient in the kind of high-payoff learning that's needed today. With assessments and exercises at the close of every chapter, she encourages readers to embrace being bad on the way to being great—to be novices over and over again as we seek to learn and acquire the new skills that will allow us to thrive in this fast-changing world.