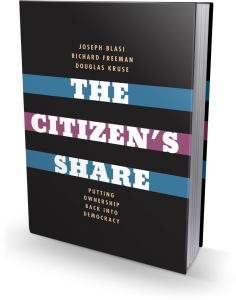 Reducing Inequality in the Twenty First Century
by Joseph R. Blasi
Yale University Press
November 2013
Mounting income inequality is America's primary economic dilemma. In the book, three academics argue that one possible solution to economic inequality is to make it possible for more citizens to gain access to capital income—to shares in stock and profits in the businesses where they work. Through history, empirical evidence, and case-studies, the book demonstrates that the "share" idea has roots in the philosophies of the Founding Fathers, and explains how the United States might reform its brand of market capitalism in a way that not only reduces income inequality, but is also good for business. Specifically, the book recommends radical tax incentives that encourage every business to adopt employee share ownership and profit sharing across the entire economy so that more citizens can own a meaningful capital stake.
---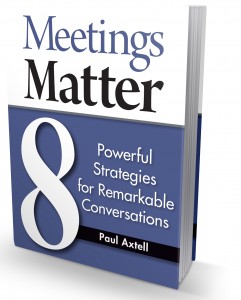 8 Powerful Strategies for Remarkable Conversations
by Paul Axtell
Jackson Creek Press
January 2015
America has become a nation "stuck in a meeting." Between corporate boardrooms, all hands meetings, and conference calls, few of us can claim our time is meeting-free. Even fewer can claim every "mandatory session" was worth it. But Paul Axtell – a consultant with more than 30 years of experience in personal and professional organization – says meetings themselves aren't the problem. In his new book, he defends the importance of meetings, explains how they've gone horribly wrong, and offers eight ways to fix our meeting problems so they stop wasting time, and instead build and boost valuable relationships.
---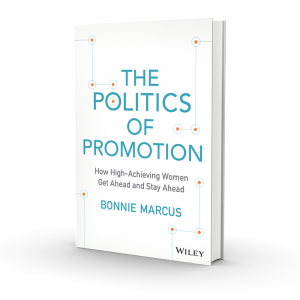 How High-Achieving Women Get Ahead and Stay Ahead
by Bonnie Marcus
Wiley
March 2015
"The Politics of Promotion" offers women the tools and guidance they need to successfully navigate the realities of their organization, emphasizing the need to understand office politics to get the promotions and recognition they deserve. Written by Bonnie Marcus, a professional coach who focuses on helping women advance their careers, this book demonstrates the impact of relationships and sponsorship on career trajectory. Readers will learn why excellence and achievement aren't propulsion enough to get ahead, and how networking with power and intention can make all the difference in perception, reputation, and promotion. Far beyond the typical advice of "be assertive" and "embrace ambition," this book provides a unique and proven method for becoming a bigger player in the workplace and avoiding unexpected trip-ups that can add years to the climb–or end it for good.
---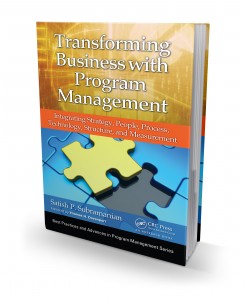 Integrating Strategy, People, Process, Technology, Structure, and Measurement
by Satish P. Subramanian
Auerbach Publications
April 2015
This breakthrough work establishes the linkage between strategy formulation and strategy execution through the program management discipline. It depicts how program management integrates strategy, people, process, technology, structure, and measurement on cross-functional initiatives. The author details the processes, techniques, and tools that a program management team can customize and easily implement on any type of strategic initiative within the private or public sector environment to deliver and sustain the expected business outcomes and benefits.
---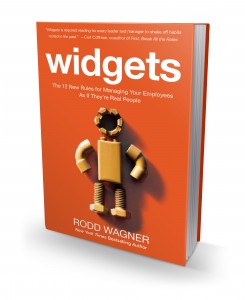 The 12 New Rules for Managing Your Employees As If They're Real People
by Rodd Wagner
McGraw-Hill
April 2015
Employee engagement initiatives abound, yet the vast majority of the American workforce remains demoralized, frustrated, and uninspired. The reason, according to New York Times bestselling author Rodd Wagner, is that organizations have neglected employees' human nature—treating them instead like widgets. Armed with extensive original research, compelling examples, and a no-holds- barred approach, Wagner ushers in a new set of rules for engaging employees by treating them like people.
---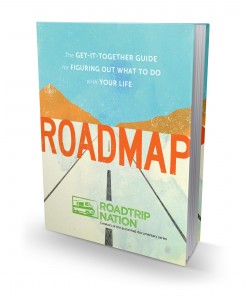 The Get-It-Together Guide for Figuring Out What to Do with Your Life
by Roadtrip Nation
Chronicle Books
April 2015
Here, the team at Roadtrip Nation makes the compelling case that the key to solving our workplace woes lies not in achieving work-life balance, but in rethinking the concept of career as we know it—seeing our career as an opportunity to profitably live out our interests, values, and vision, rather than merely a means for paying our bills. Drawing on an extensive archive of interviews with people around the world—from the chairman of Starbucks to National Geographic photographers and the scientist who decoded the human genome—the authors usher in a three-part process to finding a career that integrates work and life in a way that is both satisfying and sustainable.
---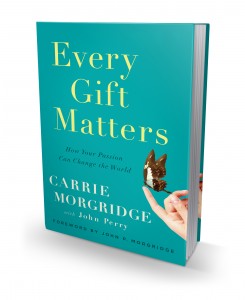 How Your Passion Can Change The World
by Carrie Morgridge with John Perry
Greenleaf Book Group
May 2015
Charitable giving is on the rise in America. Despite the lingering effects of the economic downturn, Americans continue to give generously of their time, talent, and money – more than $335 billion in 2013, a 4.4% increase from 2011. What's more, the bulk of that charitable giving – 72% – came not from large foundations or corporations, but from individuals making small gifts. For those with passion for a cause and a generous spirit, it's vitally important that they leverage their gift in the right way in order to have the greatest impact possible. In Every Gift Matters, philanthropist Carrie Morgridge shares inspiring stories of powerful gifts in action to show readers how to turn the act of giving into a vehicle for positive change.
---
Break the System, Live with Purpose, Be More Successful
by Dale Partridge
Thomas Nelson
May 2015
Serial entrepreneur and business visionary Dale Partridge reveals seven core beliefs that create success by putting people first.
Every day major headlines tell the story of a new and better American marketplace. Established corporations have begun reevaluating the quality of their products, the ethics of their supply chain, and how they can give back by donating a portion of their profit to meaningful causes. Meanwhile, millions of entrepreneurs who want a more responsible and compassionate marketplace have launched a new breed of socially focused business models.
Sevenly founder Dale Partridge uncovers the seven core beliefs shared by consumers, starters, and leaders behind this transformation. These beliefs have enabled Dale to build a multimillion-dollar company that is revolutionizing the marketplace. He believes they are the secret to creating a sustainable world that values honesty over deception, transparency over secrecy, authenticity over hype, and ultimately, people over profit.
---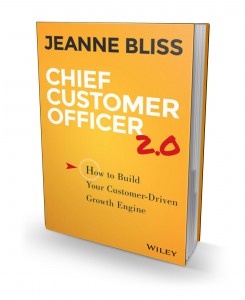 How to Build Your Customer-Driven Growth Engine
by Jeanne Bliss
Wiley
June 2015
Chief Customer Officer 2.0 is a hands-on resource packed with tools for Chief Customer Officers and leadership to work together to earn customer-driven growth. A sequel to the 2006 classic Chief Customer Officer, this new update, with over 90 percent new material, is based on Jeanne Bliss's twenty-five years of extensive experience as a Chief Customer Officer, and her work coaching Chief Customer Officers and executive teams for the past ten years. Chief Customer Officer 2.0 is based on a five-competency framework that successfully launched multitudes of Fortune 100 and Fortune 500 companies through their customer experience transformations. The framework addresses the issues that remain prominent, including siloed organizations and the need for clear goals and metrics, as well as new factors, like social media, that have altered the customer relations dynamic forever. You'll learn the five key competencies embraced by world-class leaders and the role of the Chief Customer Officer in uniting the organization to build and embrace these new competencies. This book provides practical guidance on how to make those competencies part of the way your company develops products, goes to market, enables and rewards people, and conducts annual planning. The discussion includes an exploration of what goes wrong in companies that stumble, so you can sidestep their mistakes and avoid their fate. By embracing employees and customers, and delivering an experience they want to have again, you'll pave the way for lasting success and drive better business decisions.
Over the past decade, consumers have gained unprecedented power to speak out directly, forever changing the way companies relate to their customers. The customer experience has become a major driving force behind business growth, and this book provides a framework for making it a part of every aspect of doing business.
Treat your customers like the assets they are
Craft a more comprehensive customer care strategy
Avoid the common pitfalls that cause major damage
Unify the company around the customer experience
With concrete, practical advice updated for the changing consumer landscape, Chief Customer Officer 2.0 is an essential resource for every leader accountable for the customer experience.
---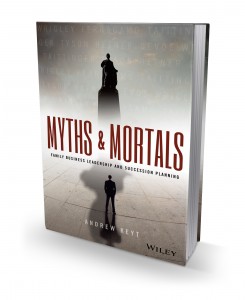 Family Business Leadership and Succession Planning
by Andrew Keyt
Wiley
July 2015
Expert in the field of family business and next-generation leadership Andrew Keyt illustrates the unique challenges of running a family business and taking over the reins from a parent or relative. Covering sticky problems like succession, establishing and maintaining credibility, and the task of leading one's family members, this book distills the key leadership traits essential for successors to step out of their predecessor's shadow and become legendary in their own right.
---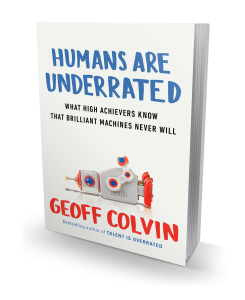 What High Achievers Know That Brilliant Machines Never Will
by Geoff Colvin
Portfolio
August 2015
Recently, many have argued that robots will soon take our jobs – not just factory jobs, but lawyers, doctors, writers. In his new book, award-winning Fortune journalist Geoff Colvin contradicts this narrative and argues that we are not destined to become irrelevant. Robots will not make us obsolete, because there will always be jobs we insist be performed by other people. In the future economy, skills of social interaction – empathy, social sensitivity, forming relationships, collaboration, and creativity – will be the new competitive advantage of both workers and businesses.
---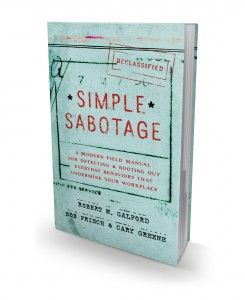 A Modern Field Manual for Detecting and Rooting Out Everyday Behaviors That Undermine Your Workplace
by Robert M. Galford, Bob Frisch, Cary Greene
HarperOne
September 2015
Inspired by the Simple Sabotage Field Manual released by the Office of Strategic Services in 1944 to train European resistors, this is the essential handbook to help stamp out unintentional sabotage in any working group, from major corporations to volunteer PTA committees.
In 1944, the Office of Strategic Services (OSS)—the predecessor of today's CIA—issued the Simple Sabotage Field Manual that detailed sabotage techniques designed to demoralize the enemy. One section focused on eight incredibly subtle—and devastatingly destructive—tactics for sabotaging the decision-making processes of organizations. While the manual was written decades ago, these sabotage tactics thrive undetected in organizations today:
Insist on doing everything through channels.
Make speeches. Talk as frequently as possible and at great length.
Refer all matters to committees.
Bring up irrelevant issues as frequently as possible. Haggle over precise wordings of communications.
Refer back to matters already decided upon and attempt to question the advisability of that decision.
Advocate caution and urge fellow-conferees to avoid haste that might result in embarrassments or difficulties later on.
Be worried about the propriety of any decision.
Everyone has been faced with someone who has used these tactics, even when they have meant well. Filled with proven strategies and techniques, this brief, clever book outlines the counter-sabotage measures to detect and reduce the impact of these eight classic sabotage tactics to improve productivity, spur creativity, and engender better collegial relationships.
---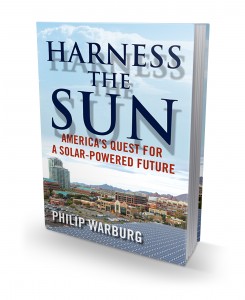 America's Quest for a Solar-Powered Future
by Philip Warburg
Beacon Press
September 2015
From the inner city to the open desert, a seasoned environmental advocate looks at solar energy's remarkable ascent and its promise for America's future
Solar power was once the domain of futurists and environmentally-minded suburbanites. Today it is part of mainstream America—and the solar industry is absolutely booming, as it adds workers almost twenty times faster than the overall U.S. economy. Beginning in his Boston-area home, where a rooftop solar array meets most of his family's power needs, Philip Warburg travels the country and introduces readers to a surprising array of pioneers who are spearheading America's solar revolution, from conservative business leaders and politicians to college students and staff committed to greening their campuses. Pollution-ravaged urban industrial areas and Native American groups alike are finding that solar offers the key to revitalizing their communities—all while weaning the country off of fossil fuels. In Harness the Sun, Warburg argues that solar offers a realistic solution to the urgent problem of transforming our energy sector in a way that meets demand and is technically and economically viable.
Philip Warburg has served as president of the Conservation Law Foundation, as executive director of the Israel Union for Environmental Defense, and as a senior attorney at the Environmental Law Institute. The author of Harvest the Wind: America's Journey to Jobs, Energy Independence, and Climate Stability, Warburg lives with his family in Newton, Massachusetts.