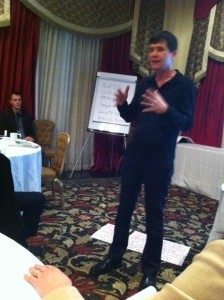 Call it what you will — intellectual juice, a sense of community, or just plain old face time in our high tech, low touch world, but today, I got a hefty dose of it all at my favorite event of the year. The Author Pow Wow hosted by 800 CEO Read since 2005 kicked off at the Driskill Hotel, where despite the dreary weather a group of roughly fifty gathered to talk books and the entire process — from putting words on paper to the finished product, be it on screen or between covers.
Executive Coach Erika Andersen, a two time author with a third book soon to come,  kicked off the day urging us all to think strategically about our time here at the Pow-Wow.  Andersen's authenticity was on display as she easily led the group to frame their thinking and to serve as CEO of their own books. She challenged everyone to begin that process immediately by using the access to the great minds in the room to learn more about bringing a book to market.
From the publisher's suite, Ray Bard, Clint Greenleaf and Jossey-Bass's Karen Murphy briefed us on the decline of retail space and urged everyone to worry first about content and let the publishers figure out the best format for the work. Good advice that boils down to publishers remaining agile in format and author's focused rightly on best of class content.
Moderator Jon Mueller reminded us that digital has created the biggest transformation of the industry, and Bibliomotion's Erika Heilman and Greenleaf's Tanya Hall took us deeply into the world of creating books in e-formats and what that means to all of us. Amid all the debate, most everyone agreed with Dave Hathaway, formerly of Barnes and Noble and now of Greenleaf, who says the digital formats give us even more chances to get ideas out into the world. It is basically the democratization of the book.
Just when the mid afternoon slump hit, the Driskill finally got the heat turned on and the early start created a room of slightly sleepy attendees, then came Noah Rickun with a presentation on GIVING presentations that had us all immediately awake, aware, and laughing. Funny and substantive, Rickun is great inspiration for authors hoping to sell via speaking. "Don't read them your book," said Rickun, "tell them what's between the lines."
The long, but very fruitful day was capped by bestselling author Tim Sanders (Love is the Killer App) talking about his new book, Today We Are Rich. I'd love to sum up what he said, but it can't be done; he's just too unique to be reduced to a quote or an anecdote.  Get a small taste of what we were lucky enough to see live.
---