I think we can all agree that 2016 has been a hard year, in many ways. So here at Cave Henricks, we're looking forward to a bright 2017 and wanted to take a minute to end this year on a positive note – with our favorite things.
We've each included a book – of course – but you'll also find podcasts that have been our friend during long commutes, notebooks to hold not only schedules but hopes and dreams, and perhaps even an adventure or two.
We'd love to hear from you as well. What's on your list this year? Is there anything that we missed?
Wishing you and yours the merriest of holiday seasons,
The Cave Henricks Team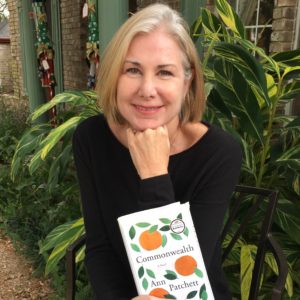 BARBARA:
Commonwealth by Ann Patchett.  A longtime Patchett fan, her newest novel caught me hard and fast and sent me racing through this sprawling story, eager to learn the fate of the two families who become irrevocably connected through a chance encounter. With a pitch-perfect ear for dialogue and a sophisticated hand at creating atmosphere (a trait well displayed in her award-winning novel Bel Canto), Patchett's prose delivers in every respect. A don't miss it read for fiction lovers and possibly a prize winner for this talented American author.
Shinola Notebooks. Move over moleskin – these slim, classic notebooks made by the small Detroit company Shinola became a favorite, bringing a smile to my face every time I hunted for it in my bag. Notebooks are monogrammed free, and the company offers a selection of three sizes, an array of colors and a choice of lined or graphed paper. It's also a nice plus that they allow me to support a local, independent company.
The Fresh Air Podcast. Podcasts come and podcasts go, but this one from the longtime NPR program of the same name delights every time. I lost track of how many times I was persuaded to purchase a book, see a movie or check out a new musical release after hearing Terry Gross's insightful interview. With her broad range of topics and interests, it's hard to imagine that anyone wouldn't love Terry.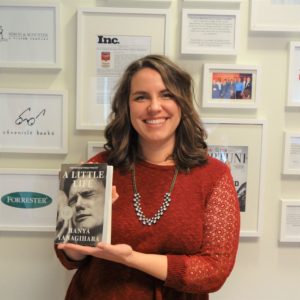 JESSICA:
A Little Life: A Novel by Hanya Yanagihara. A dear friend recommended this book to me and it broke my heart into a million tiny pieces. You know how there are a handful of books from the course of your reading life that just hold onto you and won't let go? This is one of mine. Yanagihara's writing is exquisite and her characters feel like family. The story is gut-wrenching, but at the same time inspires wonder at both the tragedy and beauty of living.
2 Dope Queens. Hands down my favorite podcast of 2016 – and of all time. Each episode is a recording of a live comedy show hosted by Jessica Williams and Phoebe Robinson who, along with their favorite comedians, share "stories about sex, romance, race, hair journeys, living in New York, and Billy Joel. Plus a whole bunch of other s**t." Jessica and Phoebe are hilarious comedians themselves and their on-stage banter in between sets could honestly be a show unto itself. But what's so cool is that they shine a light on emerging comedians, especially ones typically underrepresented in the overwhelmingly white and male world of comedy. Jessica – former Daily Show correspondent – is working on her own Comedy Central show, and Phoebe published a New York Times-bestselling book this year – You Can't Touch My Hair: And Other Things I Still Have to Explain – which I also highly recommend.
WorkFlowy. A note-taking, list-making program that I use to organize my entire life. It's a cloud-based program you can access from any device, and it's simple, intuitive, streamlined, searchable and endlessly expansive. It's the primary way I organize both work and life and I have no idea how I kept everything straight before I started using it. Read Farhad Manjoo's review here.
The Nightingale by Kristin Hannah. This book is truly a treasure. The writing is exquisite, and the story is beautifully crafted—drawing you in from the first page and staying with you long after the final page. If you haven't already, READ IT!
Burt's Bees Tinted Lip Balm. This stuff is the bee's knees (pun intended). It's the perfect blend of lipstick and ChapStick, and I don't have to worry about my husband carrying it off anywhere!
Baby Beluga by Raffi. Raffi's songs were some of my childhood favorites, and now I'm listening to them with my daughter. A welcome contrast to the whiney, nasally singing that inexplicably dominates children's music today, Raffi is both a favorite of my daughter's and a trip down memory lane for me.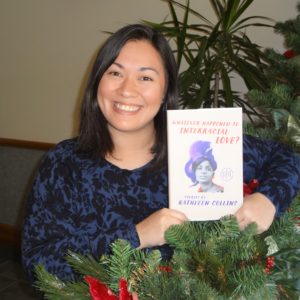 KIM:
Whatever Happened to Interracial Love? by Kathleen Collins. Kathleen Collins was a playwright, civil rights activist, and one of the first Black American women to produce a feature-length film. In 1988, Collins passed away and left most of her work unpublished. Fortunately for us, her daughter eventually sieved through these works to create an incredible collection of short stories that are as relevant now as they were during the time they take place – the 1960's. Through her writing, Collins tackles the issues we are confronted with on a daily basis, most especially race, gender, and love. And while some stories struck a chord with me more than others, the emotions evoked by her writing made me thankful that her work is finally being shared with the world.
Book of the Month Club. Earlier this year, I came across an ad for Book of the Month Club and, on a whim, decided to give it a try. Worst-case scenario, I thought, I could cancel my subscription at any time if I didn't find the monthly book selections to my liking. However, I continue to be a member and enjoy selecting one out of five books each month that I may not have otherwise discovered on my own. In fact, my favorite book of 2016 (above) was a BOTM selection.
Isle of Skye, Scotland. As much as I love to travel, I rarely take the opportunity to travel very far. But this year, I was able to make my way to Scotland to attend a friend's wedding. Even after binge-watching the first two seasons of Outlander, I was blown away by the beauty of the highlands and the Hebrides. While I could share with you plenty of reasons to visit Glasgow or Edinburgh, I'd argue Skye should be on the top of your must-see list. There always seemed to be a unique rock formation, castle ruin, fairy glen, or waterfall in sight, and many residents were more than happy to share stories of Bonnie Prince Charlie and clan rivalries.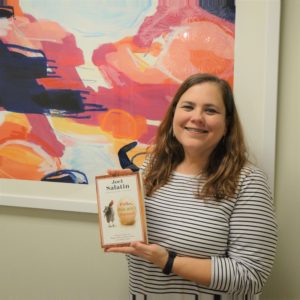 LEW:
Folks, This Ain't Normal: A Farmer's Advice for Happier Hens, Healthier People, and a Better World by Joel Salatin. I chose this book because of what its author stands for in farming and in life. I heard him speak in February at a conference and his words hit home with me on things like the importance of knowing where our food comes from. The book also contains a lot of "Back to Basics" knowledge on life that we as a society have drifted away from.
Hiking the Texas State Parks. My husband is an avid outdoorsman and we have a running joke in our family that I don't go outside. I like to correct him and say that I do like to go outside when it is not 105 degrees. This fall, we have been hiking some of our state's natural areas and state parks and it has been wonderful to enjoy all of the beauty that Texas has to offer.
Texas Lutheran Volleyball & My TLU Volleyball Aunt T-shirt.  My niece is a freshman at TLU and a member of their volleyball team. I quickly learned that there are not a lot of
clothing/memorabilia options for supportive aunts, so I had a t-shirt and a car decal made. Seeing her face when she scanned the crowd and saw our family there to support her is my absolute favorite "thing" of 2016.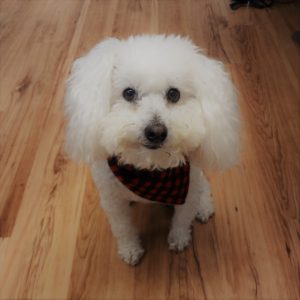 LENNY, THE OFFICE POODLE:
My Bandana. My humans went to New York City this fall and brought me back this bandana from Billy Wolf that's become my signature look this year – I wear it almost every day.
Lion. Lion and I have been on many adventures in our new backyard together. He loves playing with me so much he squeaks any time I see him!
Susie's Senior Dogs. I was rescued as a "Sweet Senior" from the Austin Animal Center so I like helping Susie find homes for other older dogs that haven't been as lucky.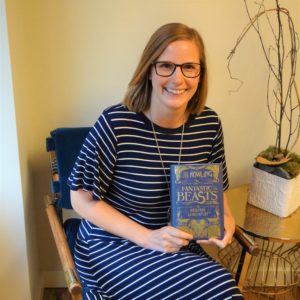 MARGARET:
Fantastic Beasts and Where to Find Them: The Original Screenplay by J.K. Rowling. I will admit, that I haven't read any of Rowling's work since I was in middle school, and while most have probably seen the movie itself, I absolutely delighted in reading the screenplay. It was so much fun diving into the world of magic again and using my imagination to picture each and every fantastic beast. You can check out the movie trailer here.
Austin Learn Shop. I realized this year that it had been a while since I had learned a new skill or created something new. To fix this, I turned to Kaley at Austin Learn Shop, where she is creating unique learning opportunities for adults and supporting local makers and artists at the same time.
Hot Cider Candle. Having grown up on the East Coast, 70 degree weather in December always throws me for a loop. Lighting this candle while wrapping presents and watching a holiday movie can always transport me to those cold, snowy days up north. And it smells absolutely like the real thing!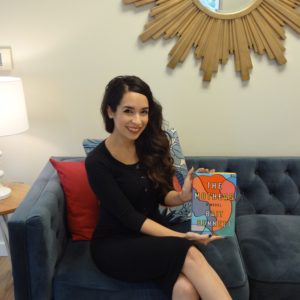 MEGAN:
The Mothers by Brit Bennett. What an absorbing and forceful story about relationships, choice, and generational responsibility. I devoured Bennett's debut novel in one sitting and cannot recommend it enough for anyone keen on powerful female perspectives. Most striking is Bennett's ease in tracing "lineage" across bloodlines, geographies, and genders. Since first reading a galley I picked up at this year's Book Expo America, I've purchased three additional copies as gifts for family and friends. Is that testament enough?
Marfa, TX. One of my favorite experiences of the year was an all-girls trip to Marfa, TX for a friend's wedding. The opportunity to travel with my best friends while enjoying the art galleries, small town bustle, and beautiful landscapes of West Texas was truly once in a lifetime. Marfa has rapidly earned a large following and immense popularity, so I recommend visiting as soon as you can if you're interested in a truly eclectic Texan experience.
The Bullet Journal. Everyone in our office is probably tired of hearing me rave about the Bullet Journal, a system for organizing daily, weekly, and monthly tasks via a hand-to-paper process. The Bullet Journal is ideal for the time-crunched as it utilizes what it calls Migration as a means of prioritizing each task on your to-do list. My personal BuJo operates as a creative brain dump for goals, reading lists, and messy journaling, and I carry it with me everywhere I go.
---