This blog once hosted a Q&A series with the top leaders in book publishing (you can read interviews with Clay Smith of the Texas Book Festival, Susan Williams of Jossey-Bass, Ben Loehnen of Simon & Schuster, Jack Covert of 800-CEO-READ and others in our archives). We learned so much talking to these smart folks, so we decided to revive the series. But this time, we're talking to a group of people we are dying to know better, and we imagine our fellow book publicists are as well – the media. We hope these interviews will help us and our friends in the book PR world better understand the journalists we work with every day, so that we can build trusting relationships that give the journalist what they need, and garner great press for our authors in the process.
For our first interview, we're honored to chat with John Nash. John is co-host (with Tim Bennett) of The Focus Group, Sirius XM Radio's first original business program. John's rise to radio came after two decades as an advertising maven, having helped pioneer the field of gay and lesbian marketing through his partnership at two ad agencies which worked with Subaru of America, Chase Mortgage and numerous other corporations in creating the genre. Regularly cited in stories by both the gay and mainstream press, including The Wall Street Journal, The New York Times, Advertising Age and BrandWeek, among others, John also has appeared as a featured speaker and panelist for numerous niche marketing events and conferences. And all accomplishments and accolades aside, he's a genuinely nice guy who conducts thoughtful interviews (a publicist's dream).
Given John a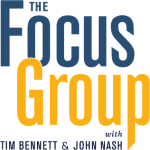 nd Tim's backgrounds, they have a specific interest in authors who can speak about advertising, marketing, and branding (and anything with a gay and lesbian angle is a plus). But they are open to more general business topics as well, including leadership, productivity, personal finance, and career.
Here is what John had to say about business books, pitches, and working with publicists.
1. What's your biggest publicist pet peeve?
Generic pitch material designed for everyone, that ends up appealing to no one.
 2. What gets your attention in a pitch?
"The silver bullet vs. buckshot" approach. It's easy to send out 60-100 generic pitches, kind of like buckshot. Some of the pellets will hit the target, most will not. Harder to craft each one for a specific show or brand—the silver bullet. When a pitch feels like it was written just for me, I'm more inclined to follow up and learn more.
 3. What causes you to pull a book out of the stack?
As a former Art Director and graphic designer, I hate to say it, but I'm a sucker for a good cover.
 4. You had two decades of experience in advertising and marketing before launching a career in radio. Having been on both sides of "the message" – crafting messages as a marketer, and receiving them as a journalist – do you have any advice for publicists on how to step up their game?
Part of my answer for this would be to refer back to question #2. The best marketing and advertising often delivers on two levels: Identifying a problem I might have, then providing the solution, often the product being sold. So for a show host or Producer, a publicist ideally provides access to guests and materials that enhance the show end enrich the listener experience. When a publicist understands my show's focus and brand, and offers up guests and topics that are within the show's "guardrails," they end up providing a memorable service. Every author Jessica at Cave Henricks has introduced us to has been on-brand. They were on-time, gave good interviews, and made great guests.
This anecdote should do the trick. The last time we had a guest on that came through Cave Henricks, my co-host asked me who was providing the author. I answered Jessica. He simply said, "this should go smoothly, she's one of the good ones." (From Tim that amounts to an A+.)
5. What's the best business book you've read lately?
There are so many business books, many derivative in some ways. My favorite for some time now has been Rework by Jason Fried. It's a smart, quick read that you remember for quite some time.
---