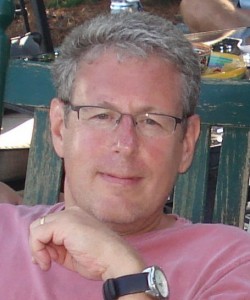 To continue our "Five Questions with…" series, this week we spoke with Ted Kinni, senior editor for books at strategy+business.
Ted reviews an array of business books for s+b, but he particularly enjoys books that emphasize the human endeavor side of business.  But not only does Ted write articles and book reviews, he has written, ghosted, and edited a number of books, including Be Our Guest, Achieve Sales Excellence, and America's Best.
Since our conversations with Ted usually revolve around whether or not he's considering a book for review, it was nice to take a minute to hear what he had to say about captivating pitches, interesting books, and his love for candy.
1. What's your biggest publicist pet peeve?
I don't really get peeved unless a publicist promises me something that's related to an editorial deadline—like a quote from an author or a permission or a book for me or one of our reviewers—and doesn't get it done. That's a hanging offense.
Something that always makes me laugh—in a 'the-jokes-on-you' kind of way—is when publicists ask me to do their jobs. Every once in a while, I'll respond to a pitch and ask for a book and the publicist will say, "Let me know if you don't get it by the end of next week." Really? You wanna bet on that happening?
2. What gets your attention in a pitch?
Anything that demonstrates differentiated content. There are many perennial topics in the business genre—leadership, innovation, marketing, service, etc. What makes the leadership book you just sent me different from the 10,000 leadership books that came before it and the 20 or so new ones stacked up on my office floor? If you answer that in a quick, compelling way, I'll put that book on my desk as soon as I pull it out of the shipping envelope. If you don't, it goes in the stacks. I might look at again; I might not. It depends on how many books I have on my desk.
Oh, and candy always get my attention, too. But don't tell anybody.
3. Being both an author and reviewer, how does this affect the books you select for review?
That's an interesting question. Maybe that's why I'm not overly impressed with author credentials and platforms. I'm a business ghostwriter, too, and that makes me a content guy. Give me a thesis I haven't heard before and support whatever you're saying with some really rigorous research. Everything else is blah, blah, blah.
Being an author mostly affects how I deal with authors and publicists. I've been there. True story: My wife and I wrote a book together and the publisher did the PR in house. The staff wrote up a package, which I spent a day rewriting, and then they sent it out with the wrong book. And that was it—the publisher refused to resend the mailing because the budget was spent. So I know how hard it is to write a book, and get it published and promote it. That's why I aspire to be responsive and respectful when people contact me. Sometimes I don't live up to that aspiration, but I try.
4. Over the last year, s+b has expanded its online presence with more blogs and guest contributors. What do you hope this extended online platform will do for readers?
I don't speak for the leadership, but I think that the goal is to publish more of the valuable insight and expert commentary that s+b has always tried to provide to executives. The nice thing about publishing online is that we can be more topical and we can publish a wider variety of perspectives. As a print quarterly, we had long lead times and limited space.
The expansion has been a terrific boon to our book coverage. We can do more book reviews and more Q&As with authors. We can do stuff like Author's Choice—an online-only feature in which a notable business author introduces an excerpt from another author's book that offers a good lesson or insight. Plus, I get to write a weekly book blog post, which is a little more personality driven—a treat for a wiseguy like me. Throw in the annual Best Business Books special section and I feel confident arguing that strategy+business has the best and most extensive business book coverage in media.
5. What's the best book you've read lately?
I don't read.
Sorry, I couldn't resist that. I'm a pretty tough critic, but books that drive home the fact that business is a human endeavor can really touch me. I loved Eduardo Nesi's Story of My People, which brought globalization home for me. Also Christine Bader's The Evolution of a Corporate Idealist, which is a nuanced and honest look at pursuing social and environmental responsibility from inside the machine. And those two small books by Edgar Schein—Humble Inquiry and Helping. If every manager read just those two books by Schein and put them into practice, the business world would be a much better place.
---