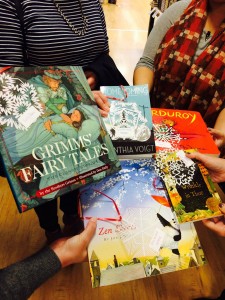 This year, we had the opportunity to do something special in place of our traditional office gift exchange. On the recommendation of our own Kim Petty, we took a trip to BookPeople—our local independent bookstore—to participate in their Giving Tree program benefitting Dell Children's Hospital, BookSpring, and Women's Storybook Project of Texas.
We each had the opportunity to select a hand-cut, paper snowflake from the Giving Tree—each snowflake specifying the type of book needed (chapter book, board book, etc.). Once snowflakes were selected, we scattered off to find just the right book.
Perhaps unsurprisingly, each of our selections was inspired by our own fond memories. I asked my colleagues to provide a brief account of why they chose the book they did. Here were their responses:
Barbara – A Wrinkle in Time, by Madeleine L'Engle
I loved this book growing up, both for the masterful handling of time travel, along with the captivating characters. I especially related to the angst ridden young girl but found all of my children, the girls and my son, were equally enthralled by it. I chose it in the hopes that another child would find it a magical escape.
Jessica – Homecoming, by Cynthia Voigt
This is the first book I remember reading as a kid that truly touched my heart. The story of the Tillerman children, abandoned by both parents and in search of a new home, was so gut-wrenching to me, someone who was blessed with an extraordinary set of stable and loving parents. But the bravery of the eldest sibling, Darcy, was so inspiring – a testament to how determination, courage, and love can help us overcome the most dire of circumstances. And the fact that she was a girl – tomboyish, totally unconcerned with her appearance and the opinions of others, and fiercely independent – made her even more of a hero to me. Experiencing this book was very much a turning point for me in my reading life, and I'm so excited for the kid who will experience this treasured book for the first time.
Kaila – Corduroy, by Don Freeman
This book was one of my childhood favorites and still holds a special place in my heart. It is ultimately a story of love and acceptance—and as a child, what could be more important in the world than that? The personification of love and acceptance through Lisa and reciprocated by Corduroy is so touching, and I hope that whoever receives this book will find as much warmth on the pages as I did.
*Note: Kim and I did not realize we had picked the same book until we reached the check-out line. We chalked it up to great minds and a truly fantastic book.
Kim – Corduroy, by Don Freeman
Corduroy is a classic! I can still remember sitting cross-legged on the floor, enthralled as my elementary school librarian read the book to my kindergarten class. I would like to think I not only gave a child a great book, but a great book tied to a soon-to-be joyful memory for them.
Lew – Goodnight Moon, by Margaret Wise Brown
My love for this book was reawakened while I was in college. I was teaching pre-school and working as a part- time nanny. Every child I worked with LOVED the book, and it brought back such warm memories. Later, in 1998 when my niece was born, I would read it to her. At the end, she would often say, "Again, LiLi, Again!" Of course, I would read it as many times as she wished. Goodnight Moon represents for me a peaceful time, where children are innocent and the world is one giant learning experience with new things to discover every day. I hope it brings the same joy to whoever receives it as it did to my niece, Sydney.
Margaret – Zen Shorts, by Jon J Muth
When I realized the books were going to sick children at Dell Children's, here in Austin, I immediately thought of Zen Shorts. I had read it with my nieces and knew that it was not only beautifully illustrated, but a great conversation starter. A giant panda named Stillwater moves into the neighborhood and presents three ancient Zen tales to the children. Whether it's about the value of material goods, the difference between good and bad, or how to let go of frustration, this book is full of absolute love and enlightenment.
Megan – Grimms' Fairy Tales, illustrated by Don Daily
When I came across the classic edition of Grimms' Fairy Tales stacked modestly on one of BookPeople's shelves, I knew I had found a book that would fascinate any child reading it. The beautifully ornate illustrations are filled with soft colors and seriously enchanting characters that evoke a subtle art nouveau approach. I could just imagine a child poring over them while their parents read aloud the timeless favorites of the Brothers Grimm.
It was such a joy to pick out these books with the hope that they would have a meaningful impact on their recipient—the way they have had on each of us. Suffice it to say we have found our new holiday tradition!
We would love to know: what was one of your favorite books from childhood?
---