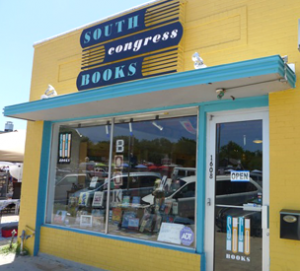 Sheri Tornatore, co-owner of South Congress Books in Austin, has been buying and selling used and rare books for almost 20 years. Sheri has owned and continues to operate an online book business (yes, even on Amazon) since 2005, and has a work history that ranges from onion farming to lamp shade sales. Although she's from upstate New York, Sheri has lived in Texas more than half her life.
Q: Although so many book lovers dream of opening their own book stores, many would not dare take on the task during such an unstable time in publishing and the economy. What drove you to open South Congress Books? And why on South Congress?
A: In a way, the new e-book era is a blessing for used and rare booksellers. Now, more than ever, there is a gift and collectible market for books that are interesting as objects, such as early 20th century decorative bindings, as well as books that have cool dust jacket art, and photography and illustrated books that are not available as e-books. And, of course, first editions, prize winners,  and signed copies are always in demand.
South Congress Avenue is a perfect location for creative endeavors because it is a stimulating place for the curious wanderer with its eclectic mix of activities and destinations. The diversity and intelligence of the average visitor to South Congress was irresistible to me.
Q: With the rise of the Internet and technology in publishing, how are independent bookstores competing with eBooks and Amazon?
A: With our years of knowledge, we offer a personal connection for helping customers discover something they didn't even know they wanted. I don't see technology and the Internet as our competition; I  see it as variety. Even though you can ride in a car or airplane to your destination, people still walk and ride bicycles. Similarly, you can download a book or buy one in our store; each has its own appeal depending on what you want from your journey.
Q: The end of Borders – a blessing or an omen?
A: A blessing for us: we got a good deal on attractive bookshelves for our store right when we were setting up! The Internet is more likely to replace big chain bookstores like Borders and open markets for smaller niche stores like us. People are embracing the neighborhood bookstore again.
Q: Since retail space is such a valuable commodity, what do you look for in a book? And how do you put a price tag on some of your rare finds?
A: We try to stock the store with unusual printings and hard to find books and unique printed matter while balancing that with what people are reading right now. Through experience and research, we price our rarer items with scarcity and affordability in mind. We try not to be too outrageous, but our prices reflect that we strive to have the nicest copies available of even the rare books.
Q: What have been some of your most surprising and valuable finds over the years?
A: A colleague once found a doodle on a napkin in a book that turned out to be an original Salvador Dali drawing. What's valuable to me is what's in the NEXT buy!
---