This week, we are delighted to feature Dylan Schleicher for the fourth installment of our "Five Questions with…" media interview series.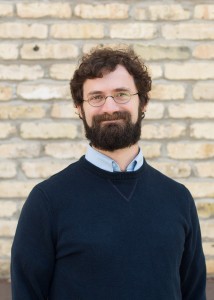 Dylan is managing editor of ChangeThis and in-house designer and resident illustrator for 800-CEO-READ.  Though he has worked in various facets for 800-CEO-READ since 2003, we at Cave Henricks Communications collaborate with Dylan most often on placing ChangeThis manifestos for our authors.
If your author has a great idea, "an argument, a reasoned, rational call to action, supported by logic and facts," then be sure to deliver a corresponding pitch that's just as compelling and original.
Here is what Dylan had to say about business books, pitches, and working with publicists.
1.     What's your biggest publicist pet peeve?
It is probably a little petty (as I suppose most pet peeves are), but my biggest publicity pet peeve is when I receive a pitch sheet/form letter via email. I expect and appreciate them when receiving books in the mail, but when I receive an email in which I know that the only thing that was written for me specifically was "Hello Dylan," it does more to hurt than help my relationship to a book.
If I am genuinely interested in the book being pitched, I'll still cover it, but it would be more helpful to receive a message that tells me why I'd be interested personally or how it's relevant to my readers. I realize there is only so much time in the day, and crafting a personal pitch for everyone you're writing isn't feasible, but if there isn't time to write a unique email, a simple "hello, thought you might be interested in covering this book" type email with a pitch sheet attached is much more respectful and personable, in my opinion, than a pitch pasted directly into the body of an email as if it were intended for me.
2.     What gets your attention in a pitch?
The number one thing that gets my attention in a pitch is the quality of the book.
Jim Richardson, a photographer at National Geographic, has a great line about photography: "If you want to be a better photographer, stand in front of more interesting stuff." I think the same rings true in publicity. I try to never ignore anyone altogether, but I pay much more attention to publicists that I know "stand in front of more interesting stuff" more often, and have a consistent portfolio of good, well-written, and interesting books to pitch.
3.     What causes you to pull a book out of the stack?
Quite simply… the cover. "You can't judge a book by its cover" is a good idiom for children learning about outward appearances, but it doesn't hold up if you're sifting through a mountain of books crossing your desk everyday—or even if you're just browsing in a bookstore.
For one thing, the cover tells you who the author is, which is many if not most books' main selling point. And a good title and well-designed dust jacket, with an intriguing summation on the inside flap, does a lot to pique interest and get me to actually dive into a book. On the other hand, a bad title or poorly conceived cover can easily bury a book on my desk. For example, I ignored Henry Nothhaft's GREAT AGAIN when it came out in 2011 because it just didn't look that good. When I finally picked it up and gave it a chance, months after the best publicity windows had already closed, it turned out to be one of my favorite books of the year. I could have done more with it had I found it earlier, but well… the cover.
So, for any publishers and self-publishing authors that may be reading… find and pay good artists and editors to work on your book jackets. They're worth it!
4.     As your site states, 800-CEO-READ has been in the business of business books since 1984.  What is 800-CEO-READ doing to not only maintain its role as the number one source for business books, but to appeal to different generations of readers as well?
Our core competency as a business at 800-CEO-READ is still our customer service and the logistics of physically moving books around the world, and I think good, competent customer service is appealing to any generation looking to buy books. But I'm assuming your asking this question in regards to our editorial efforts and the content side of our company? (smiles)
I would say that, whether it's ChangeThis, KnowledgeBlocks, or our other ongoing online projects and reviews we write, what we do is largely a reflection of what's being put out in the industry. So it is, first and foremost, the job of authors and publishers to put out material that will appeal to different generations of readers, and our job to cover a wide enough swath of books and ideas to reflect the breadth of their work. There is a strong youth movement in business books these days, and a lot of young authors coming up we try to cover and support, and we will continue doing that. But we obviously cannot, and will not, ignore the more established voices in the genre.
We also try to keep our design fresh and our editorial voice honest, which I think goes a long way with readers and seekers of all ages. And we will be revamping and redesigning all of our editorial efforts in the coming year to make them more consistent and aligned with one another, and easier to find and follow online.
5.     What's the best book you've read lately?
I love big, yet nuanced histories and narratives, so Felix Martin's MONEY: THE UNAUTHORIZED BIOGRAPHY and Nikil Saval's CUBED: A SECRET HISTORY OF THE WORKPLACE are two of my recent favorites. In the more nuts-and-bolts business category, I love Rich Karlgaard's THE SOFT EDGE, which makes a strong argument that we should all be focusing as much on the culture and values of our organizations as we do on strategy and execution, and gives some real world strategies and practices for doing so.
The two works of fiction I've read recently are THE ART OF FIELDING by Chad Harbach and FOR WHOM THE BELL TOLLS by Hemingway. Both are brilliant. (I know, I know…  I'm really sticking my neck out by praising the writing of Hemingway—who, incidentally, I did not like at all when I first read him in high school—but I'm standing by it!)
---