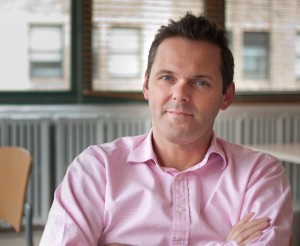 We are beyond excited to feature Rupert Allman, executive producer of "The Takeaway," for this week's installment of the "Five Questions With…" media interview series. "The Takeaway" is a co-production of PRI and WNYC radio, in collaboration with The New York Times and WGBH Boston.
Here is what Rupert had to say about working with publicists and selecting guests for the show.
1. What's your biggest publicist pet peeve?
Not being straight, we know we are one of many outlets – if we're up against others you'd prefer – just be clear/honest.
If you know the client is going to be appearing on other likely competitive outlets, come clean. We're going to find out – best to know in advance.
I get mad when it turns out we don't know the said client is scheduled to appear everywhere on a given day.
2. What gets your attention in a pitch?
Something either newsy or personal. If the client is solely interested in just talking narrowly about her/his book/movie/etc. – then she/he is less of a draw. We are interested in folks who are interested in how their work intersects with all manners of issues/events/themes.
Personal – can't beat a good story told firsthand.
3. What causes you to pull a book out of the stack?
Name recognition. The opportunity to use the material on a number of platforms – is there audio/video and slideshow, etc.
Just pure curiosity.
4. What makes for a great guest on The Takeaway?
Usually a client who is confident enough not to always say, "As I say in my book" – the best guests are engaged in the wider world and can make connections the audience would not normally get. Oh, in-studio please and on time. If they are nervous, that's cool. We can avoid doing folks live.. just let us know.
5. What's the best book you've read lately?
This one.. loved it. So much going on, great sense of place and drama, you kind of care about some of the characters – that helps too.
http://www.amazon.com/Mr-Penumbras-24-Hour-Bookstore-Novel/dp/1250037751
---