Day two at the Author Pow Wow in Austin brought our own Barbara Henricks and Rusty Shelton to the fore on the topic of getting books out into the world via publicity, traditional and digital. Authors' ears were perked as they soaked up valuable up-to-the-moment know how on this new and rapidly shifting PR landscape.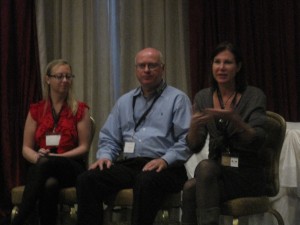 800 CEO READ's General Manager and skilled deadpan moderator Jon Mueller once again led the questioning for this first panel on publicity. He first asked about the differences between in-house publicity provided by a publisher and outside publicists. Barbara Henricks said "Authors need to start focusing less on the print pieces they can frame for their office walls and look to the real number of readers that lie outside the traditional media space." She also offered up advice on picking a publicist – as subjective a process as deciding to publish a book. In short, pick a firm that understands your goals and reasons for publishing in the first place and pick a communicator that you like – as they will be delivering your message to the media. Adrienne Lang of BenBella Books pointed out that publishers are primarily concerned with book sales as opposed to helping an author build a business or brand. David Hahn of Planned Television Arts talked about the luxury outside publicists have of devoting more time to developing story angles and pitches.
Great stories were shared about best publicity experiences and greatest publicity challenges—the release of Jack Welch's book on September 11, 2001 had to be the topper—and more. The panel's closing advice answered the question of what authors can best do to aid the publicity effort. The answer from all three: stay positive and keep believing. Barbara added that making yourself as helpful a resource as possible to the media you connect with—putting THEM first and your book second—will get an author remembered and might just make you a trusted source for them, leading to more publicity down the line.
Rusty Shelton of Shelton Interactive, Cave Henricks' interactive partner firm, and Phil Gerbyshak of 12 Minute Media/800CEOREAD shared their expertise in an area that many authors in the room know is crucial but still don't fully know  how to use — social media tools.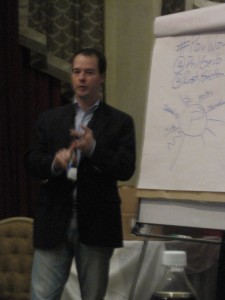 Rusty Shelton said he sees the author's website as the hub for their social media efforts and then guides authors in using social media to develop key relationships with journalists/bloggers, organizations, authors/influencers and the book buyer. Phil emphasized that it takes 18 months to build a relationship: "If your book comes out this month or this year, you're pitching me. It's not a relationship." Both talked about the importance of sprinkling a dash of the non-business you into your content with something like Twitter—your family, your sports interests, whatever you love and whoever you really are, to keep it interesting and make you human.
Rusty brought clarity and strategy in to the normally fuzzy topic of how to gauge the success of an online campaign. He suggested looking at your platform as a number, the number of people you can reach routinely on a monthly basis, and then consider the multiple onramps to that platform—speaking, Twitter, PR, blogging, Facebook, LinkedIn, etc. "This is the way to add followers and build your platform for the long haul," he said.  "And there need to be easy ways for people to sign up to join that number you are building." To take it to the next level and pull even more people in, he said, requires a way for people to personalize the message and find it relevant to their lives, citing the example of the book One Thousand Gifts, for which he created a microsite allowing anyone to add to the list of things they were grateful for and truly connect with the book in a personal way.
Phil emphasized the need for authenticity in an author's online efforts. He said you can hire someone to write a thank you note but not to sound like you in a long piece. Readers can tell the difference. However, he pointed the way to some tools that can make being authentic a whole lot more convenient, such as BufferAp, which allows you to enter tweets to go out on a schedule so that you can line them all up once at a convenient time. This brought some controversy as Brand Autopsy's John Moore disagreed, making this a spicy and healthy debate that brought home the notion that the rulebooks for usage on digital tools are still being written and there is room for many voices at the table.
The final word on the subject was DISCOVERABILITY. All media, digital and traditional, should help authors boost their ability to be found by media, buyers and potential clients.
By the time we all bid one another goodbye,  I'd bet many of those in attendance used their plane time to mull the many ideas that were bantered for two packed days. Here's to 800 CEO READ for giving us all the chance to touch base with our publishing community.
---