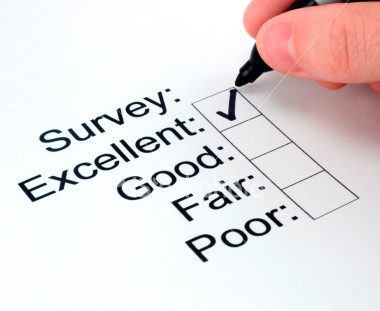 We make it a rule not to write about our own clients on this blog. We want to keep this space as a forum for sharing ideas about book publishing, business books, and publicity at large, and never let it morph into a self-promotional machine.
But we are always learning new things through our work with clients, and every now and then, we learn something that we want to share with you all.
Over the past several months, I have tried my hand at a tactic straight from the PR handbook, but one that is used less frequently in book publicity strategies: generating research for public release. We decided to try it when Rory Vaden extended his partnership with us after a great launch campaign for his 2012 book, Take the Stairs. After seeing Rory grow his platform and establish himself as an expert in the media in a fairly short window, we knew there was much more to be done on behalf of his brand and book.
In addition to generating local TV interviews for him while on the road as a speaker, we set our sights on Rory's big goal: national television and print. With the book six months old, we needed fresh content and messaging in order to reapproach the national media that we hit so hard during the campaign. And one of the best ways to generate your own media-worthy story is to conduct a study. New research and statistics are catnip for the media – on any given day, you'll come across dozens of stories and TV segments with leads that use a new study as the setup for helpful tips and fresh insight on an age-old topic. So for thought leaders looking to breathe new life into an evergreen message, generating a compelling statistic is a great approach to try.
Rory's platform is all about the link between self-discipline and success, so we set our sights on a study about New Year's resolutions, timed for release just before January 1. Having never commissioned a study myself, Rory and I were both learning about the process for the first time – and thankfully, he trusted me enough to give it a try and learn together. So I set off on my fact-finding mission, digging around and talking to others in the PR industry about their experiences. I discovered that the market research world is huge, a bit confusing, and expensive – but if you play your cards right, the payoff is 100% worth it.
Here are a few tips for getting PR mileage out of research, based on what Rory and I learned:
Research the research. Finding the right firm was the step that took the most time. There are hundreds of firms out there, and when you've never commissioned a study before, you're in the frustrating position of not knowing what you don't know. So after a ton of research, I narrowed my list down to six firms. I spoke to each at length, and asked countless questions (most of which probably sounded ridiculous) until I had a solid understanding of the process, the research options, the pros/cons of each method, and the general price tag. I needed to know what exactly Rory was going to buy before I could begin to think about who to hire.
Define what you need from a firm. This depends a great deal on how much experience you have with research, and how you plan to use it. If you've been around the block, then most likely you just need a firm that will complete the study quickly, accurately, and for a reasonable price. If you're like us and you are commissioning research for the first time, you need a partner who will not only guide you through the process, but be thoughtful about your brand, message, and desired results, as these are the factors that influence what questions the study asks, and how it asks them. And beyond that, how do you plan to use the results? Are they going into a chapter of a book to underline one of your key points or principles? Will you use it to bulk up your speaking presentations? Do you plan to release it to the media in order to secure print coverage and TV bookings, as in Rory's case? After considering our needs – guidance and education, strategic help crafting the right questions, and study results that would be of interest to high-level national media – we decided to hire Kelton, a boutique research firm that specializes in research for media release. The firm was founded by two former media professionals, and they have pulled in team members from journalism, marketing, and public relations. Not only did they have the media specialty we needed, but they also pride themselves on being more of a partner than a vendor, guiding you from the initial brainstorm all the way to post-media pitching counsel. The level of service, thoughtfulness and expertise were a perfect match for our needs.
Define your dream headline. The questions you ask and the way you ask them will directly impact your data, and ultimately, your media headline. When we started the brainstorm process with Kelton, Rory had a vision for his dream TV segment – that he would be on the show to tell viewers they are X% more likely to keep their resolutions if they do just one thing. By knowing what we wanted to find – one thing that would increase chances of success by a measurable percentage – we gave the research experts at Kelton crucial direction on what kinds of questions to ask. This step can make or break the process.
Pick a lead statistic that lends itself to a call to action. Our research team analyzed the data and delivered a number of compelling statistics about how successful people are (or rather, are not) at keeping New Year's resolutions. While several of these findings were front-runners for our headline statistic – for example, 18% of people gave up after just one day, and 65% of people couldn't make it past 30 days – our most compelling finding was that 76% of people who made it past 30 days kept their resolution indefinitely. This means that if they can just make it through the first month, their success is almost inevitable. We loved this not only because that percentage is so dramatic, but also because it naturally translated into a hopeful call to action – just get over the 30-day hump, and you're almost guaranteed to succeed.
Offer advice. With your compelling statistic in hand, craft actionable tips for addressing the challenge or insight your research uncovered. In Rory's case, he zeroed in on advice that would help people get over the 30-day hump – a specific challenge, followed by very specific tips like "Pick one resolution and scrap the rest," and "Set a weekly check-in appointment on your calendar." The more specific and actionable the better, especially for TV.
Release your results far and wide – but don't forget the personal touch. We distributed a press release with the study results and tips on the wire, but I also made personalized pitches to my own targeted list of contacts as well. A wire release is absolutely key for online pick-up and making you "findable" to journalists working on your topic. But if you're aiming for national press, don't just rely on the wire release – pitch individually as well. In addition to getting online pick-up and blog mentions thanks to the wire release, our efforts also yielded a mention in Fortune, and a segment on The Better Show, a nationally syndicated morning program. And we were able to get more mileage out of it with local media, with an appearance on a great local morning TV show in Indianapolis just this week, while Rory was in town for a speaking engagement.
What other tactics you have used to generate your own story, or breathe new life into your message?
---