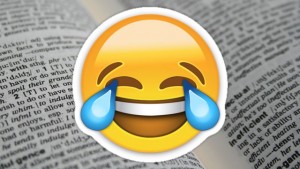 Oxford Dictionaries declared last week that the 2015 "word" of the year is the tears of joy emoji. When well-schooled  lexicographers decide that an emoticon is more fitting for the honor than an actual word, it's easy to become cynical about the future of books. But rather than succumb to that urge, we decided to focus on the happenings and developments in the publishing industry that benefit authors, books, and the written word.
More publishing options: Publishing has been on a DIY trend for several years, giving authors more choices for bringing a book to market. Previously, the discussions were largely confined to self-publishing, but in 2015, the conversation around hybrids—seen as the middle ground between traditional and self-publishing—grew more robust.
Hybrids can be a great solution for authors who want the benefits of a traditional deal—which include sales, distribution, editing, and marketing—but more control of copyrights and a bigger voice in editorial decisions. This should not be confused with custom publishing, where the author pays for all services, often in an a la carte menu. If you're considering a hybrid arrangement, check out this column in Publishers Weekly from Jane Friedman, former CEO of HarperCollins who now runs the e-book publisher Open Road Integrated Media. And this one in Huffington Post, from Brooke Warner, publisher of She Writes Press, which offers insights on hybrids and other nontraditional options.
"Best Of" lists are beginning to appear: Good publicity for a book is never too late. Ask any publicist who has been surprised by a book review that runs well after pub date and effectually puts the book back in the spotlight. We, like you, love the last chance of the year to land some extra attention. Financial Times, Business Insider, strategy + business, and other big business publications will be releasing their lists in the coming weeks. As review attention for business books continues to dwindle, revel in the notion that no matter when in 2015 your book was published, you might get an extra publicity push before the year ends. And award season is always good news too. FT made their pick for business book of the year in the fall, and 800-CEO-Read will announce their winner in January.
100 Best Business Book of All Time Redux: In 2010, Portfolio published what many consider to be an industry standard, a clever book that doesn't merely list the best books as suggested by the title, but rather offers a close look at definitive titles in each category and offers different length summaries. (Disclaimer: We handled the PR for this book when it published and consider authors Jack Covert and Todd Sattersten valued publishing industry friends.) While coauthor Jack Covert is happily retired from 800-CEO-Read, coauthor Todd Sattersten announced this fall that his publisher has commissioned an update. I don't think it would be too much of a spoiler alert to point out that in his announcement, Todd includes a link to reviews of the books that he's been reading and reviewing this year in anticipation of the update. While we don't know for sure, I expect at least one new category to be added to the book's offerings. At the time it was written, Jack and Todd did not include a section on technology books, saying they didn't believe the definitive books in that space had yet been authored. Bet the new edition will include one.
We're thankful for all of this great news and hope your Thanksgiving holiday is also full of optimism.
---