Fred Allen at Forbes wades through a lot of pitches before deciding who contributes to the magazine's highly successful online edition which is seen by roughly a million viewers a month.  While you might think it takes a recognizable name or an enormous personal following to be tapped for a piece or even a regular column, the prerequis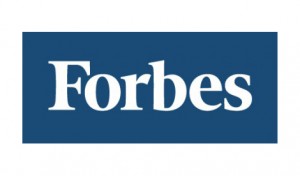 ites are actually much different.
"I'm looking for people with clear expertise and bona fide experience," says Allen, the magazine's leadership editor, "Those who have something to say and can say it cleanly, clearly, dependably, provocatively, engagingly and substantially.  Further he says, "We must be confident that they can be their own editor and publisher."
Solid communication skills have always been important, but today, in an era where virtually everyone has access to a public platform to post content, they are more critical than ever.
I interviewed Allen when coauthoring the just released book, Mastering the New Media Landscape.    Here's what he had to say about bylines and publishing in the digital age.
How can you become your own editor and publisher?
Fred:  Know how to communicate clearly and effectively.  It is a craft.  Imagine you are at a cocktail party and want to demonstrate your enthusiasm and passion for something.  Assume the audience is intelligent and sophisticated but knows nothing about what you are relating.  Practice the skill of relaying the information first verbally and then in written form.  People run into trouble when they feel they need to sound impressive or need to rely on buzzwords or jargon.  Communicate the way you speak.  Clichés lack freshness and specificity.  Words like impact and silo are like Novocain.
Is there a book that would be instructive to anyone who wants to improve their writing?
Fred:  The most wonderful illustration of writing to inform and entertain is Politics and the English Language, an essay by George Orwell.
(Note:  I picked up a copy of this seminal work after my interview with Fred and must report that it's not only a pleasure to read but also succeeds in explaining so much of the "how" about great writing.)
 What is your first instruction to a new contributor to Forbes.com?
Fred:  You've got to start by having something this is fresh and interesting and useful to the intended audience.
Can you describe a dream contributor?
Fred:  He or she has a strong view of things and a message to convey.  Further, they need to have the ability to convey that message concisely and eloquently.
Q:  How do you select those who contribute on a regular basis?
Fred:  I am always open to new contributors.  Despite our robust lineup, I still make approaches to people who would be good voices to add to the mix.
Q: You spent decades of your career editing print magazines.  What do you like about the digital arena?
Fred:  I love online because of the freedom it gives you.  You are not constrained by print deadlines or limited by length.  You can change and update the material.  You can fix the errors.  You are not stuck with something forever.  I love the interactivity, the fact that people can comment and get a dialogue going.  It seems so much more dynamic and vital that way.   Right away, you get a sense of the response.  I have written things myself that had hundreds of thousands of views, and that's empowering.  It is live.
What direction are we going with content?
Fred:  There has been a great democratization of the process.  More people are capable of getting their messages out.   I see an upside to that process.   There will be more and more of that.  There will always need to be investigative and long-form reporting that requires talent and budget, but new channels will continue to crop up.  People have a huge appetite for news and entertainment, and that won't go away.  There will be more kinds of media products, but the old ones won't all go away.  I don't want to imagine a world without the New York Times.
Whether you aspire to be a Forbes.com contributor or are composing a blog for your own site, Fred's practical approach to creating content will serve you well.
---