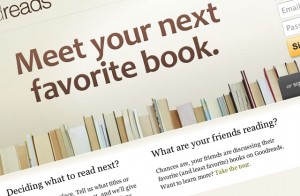 Don't know what to read next? Uninspired to pick up a book? The Internet is bursting with solutions, and below you'll find some of my favorite online resources that will (re)connect you with the online literary community and a book to suit your needs.
BookDrum
BookDrum serves as a multimedia companion for books that offers more than plot synopsis and reviews. BookDrum offers interactive footnotes provided by the online literary community and is continuously being updated and refined. Watch the trailer for Citizen Kane referenced on page 362 of The Amazing Adventures of Kavalier and Clay or listen to The Flight of the Bumblebee mentioned on page 3 of Extremely Loud and Incredibly Close. A recent addition to the BookDrum site is their literary world map which pin points book settings on a Google Earth map. Let your favorite spot on the globe inspire your next read!
BookLamp
Considered the Pandora of books, BookLamp makes book recommendations based on content rather than genre or strangers' suggestions. The creators at the Book Genome Project have turned literature into a science, tracking book density, dialog, pacing, description, and perspective. As the Book Genome Project continues to record story DNA, it'll grow to be a great tool for finding your next read uninterrupted by advertising and genre based recommendations. Such an in-depth endeavor takes time, but as BookLamp's catalog of books grows so will the site's worth.
Goodreads
If BookLamp is the Pandora of books, then Goodreads is the Facebook. This site revolves around book recommendations but with a few extra perks. A social media platform for booklovers, Goodreads allows you to add friends, browse their bookshelves, and read their reviews and ratings. Test your knowledge of your favorite author or find upcoming literary events near you. Feeling even more social? Host a bookclub and start online discussions.
YourNextRead
Two of my favorite things: flowcharts and books. A flowchart of likes and dislikes leads you to your next read on this book recommendation site. Click your way through books and skim Amazon reviews as you go. It may not be the most reliable recommendation system but it is helpful and quick (not to mention a little fun if you like visuals as much as I do). Their database is large, and my only qualm is that several books reappear due to different editions and cover art.
---