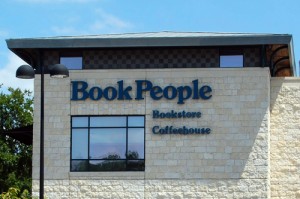 In today's Wall Street Journal, Joanne Kaufman has a great piece about the evolving nature of book tour events.  Straight readings are out, and interactive (i.e. keep the audience awake) is in.
Kaufman talked to event coordinators at a number of great indie bookstores – McNally Jackson (a personal fave of mine), Tattered Cover, RJ Julia, and more. The common idea is that an engaging event not only makes for a happy audience, but it can also increase book sales. Whether it's a powerpoint presentation, a story behind the book, or an on-stage interview, going beyond the traditional reading is key for today's book tour crowds.
It's a topic that's been on my mind lately, as I planned Randy Fertel's book tour for his wild New Orleans memoir, The Gorilla Man and the Empress of Steak. The beauty of the book is in the stories and the food (his mother founded Ruth's Chris Steak House), so we've done a number of unconventional events. At Housing Works in NYC, New Yorker writer Calvin Trillin interviewed him on-stage, in lieu of a reading.  Trillin happened to know Randy's mother, Ruth, and their conversation killed the audience. We've also done a number of restaurant events – a dinner and conversation followed by a booksigning – that have been a hit with both Randy and his readers.
And as a reader myself, I always prefer an interactive event to a straight reading. A few highlights from the past year:
The beloved singer/songwriter Josh Ritter came to Book People on tour for his first novel, Bright's Passage. His book actually grew out of a song he had written, so he alternated between reading short passages and performing his music. He had the crowd so riveted that I was shocked when his hour was up.
Nicole Krauss  visited the Harry Ransom Center  this fall for her acclaimed novel Great House.  After reading a short, 5-minute passage from her book, Krauss was interviewed by Michener Center Director James Magnuson.  It was the perfect pairing for such a literary book, and one of the best book events I've been to in some time.
There aren't many people that know how to do a book event like Chuck Palahniuk. He was at the Texas Book Festival this past fall, and participated in our first-ever Lit Crawl , at the divey Scoot Inn in East Austin, to boot.  Rather than read from his new novel, Damned, Chuck read an original story he wrote just for the tour. He also brought boxes and boxes of prizes for the audience – everything from rubber snakes to inflatable brains and skeletons – and had their participation throughout.
And for some book events, the authors aren't even there at all. Austin's Teleportal – which bills itself as "Reading Rainbow, the Next Generation" – produces multimedia book events that incorporate video and interactive performances, often "beaming" in authors from other locales. It's one of those "you had to be there" things – and it totally works.
What are your favorite author event formats? Any particular favorites from the past year?
---