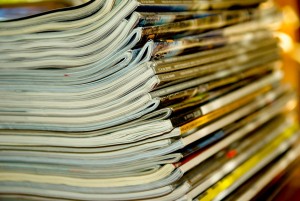 As publicists who work predominantly on business books, a great deal of our time is spent researching who covers these books and how. And one big trend we've noticed in recent years is a decline in reviews and an increase in requests for original content. It's not hard to see why, as often as we hear about buyouts, layoffs, and other forms of staff downsizing. The media's time and resources are slim.
With that in mind, we decided to start the new year by reflecting on our most popular types of coverage in 2015, with some of our most sought after outlets:
THE NEW YORK TIMES
Over the last few years, we've seen business book reviews and business blogs fade away at The New York Times. While a few staff writers are still on the business beat and looking for sources, they tend to prefer academics with original research. Opinion pieces, whether they be in the Daily, Sunday Review, or Room for Debate sections, have been a great way for us to not only secure coverage here, but start conversations with others.
WALL STREET JOURNAL
Business blog coverage has also dwindled at the Wall Street Journal, but there is still the possibility of a business book being reviewed. With thousands of business books being published a year, a review can be a tough get, but luckily, they've also got writers looking for a good source. The key here is real-life examples and offering other potential sources that can back up your argument.
FINANCIAL TIMES
One of the few dailies left with staff and space strictly dedicated to business book reviews. They're selective and frank, but a review here is a great feat!
FORTUNE
Fortune's online team will occasionally write a review or post an excerpt, but we've found the best way to get their attention is by offering a timely article from an expert on the topic at hand.
FAST COMPANY
Not a review, yet not a request to produce more content. We love placing excerpts on Fast Company's website. It requires no extra effort from the author and gives readers a sneak peek into what the book has to offer. It also gives us a chance to share pieces of the book via social media.
HARVARD BUSINESS REVIEW
Placing a byline on HBR.org provides a great opportunity for sharing, with your audience and theirs. Should you prove you've got what it takes to write well on your own and draw plenty of interest, this could be the first step to becoming a regular contributor here.
ENTREPRENEUR
If you can appeal to the entrepreneur audience, placing a byline on Entrepreneur.com is a great way to go. Once again, the shareability factor here is optimal and so is the chance of becoming a regular contributor.
INC.
Several Inc. columnists are interested in featuring business books and using authors as sources. Though the topics vary, we keep tabs on these writers and what they're writing in order to offer authors and books that are optimal fits for them.
The way in which business books and authors are being covered by the media is constantly in flux. As we welcome 2016, we look forward to sharing new emerging trends with you on this blog!
---